Return to blog
RED ADVENTURE SERIES | Fenwick Ridley | 5 Degrees and Below
Red Adventure Series
Stories
Posted by Jess Davies
Nothing beats a long day outdoors kicking back and sharing stories with your friends around a campfire. The need to connect, converse and share our experiences has never been greater and idle chat with your comrades can be all you need to re-engage and reconnect with what matters.
Here at Red Paddle Co, we want to channel this thinking, so this year we're ditching Instagram and hitting the road in pursuit of the everyday adventurer, the interesting, the unusual and the straight-up inspiring.
To kickstart our new Adventure Series, Rachel and Ross from Red, journeyed north to spend a few days with inspiring character Fenwick Ridley. Ice swimmer, adventurer and cold-water junkie, the team met Fenwick in his hometown of Northumberland to learn all about the addictive sport of ice-swimming.
________________________________________________
"Being in the water is classed as being alive, it's a huge part of my soul, it's like soul food. Being in the water is everything I need''
________________________________________________
Northumberland is one of the wildest, untapped adventure locations in the UK. Surrounded by lakes and the notoriously chilly North Sea, it is no surprise that Fenwick chose to call this place home. We were lucky enough to join the confessed 'ice addict' in one of his favourite swimming spots, Sweethope Lake. This, he tells us, is where he trains for the Ice World championships, plays coach to his local swimmers, and runs his beloved H20 Trails offering winter paddles, swims & courses.
Over two days, we absorbed all we could from the master of the ice as he shared his story, drive, and ambition for adventure. We quickly learned why this man, who can only be described as a legend, is an indisputable asset to the wild swimming community.
Northumberland has the largest protected area of the night sky in Europe, making the skies super clear. Our 7 am start meant we could soak up the sparkling skies before dawn broke and the motionless lake and natures chorus instantly installed a mood of calmness. On Fenwick's arrival, we huddled inside his man-cave container. Warmed by the gas fire, we talked through his day-to-day training, his passions, including his beloved axe collection.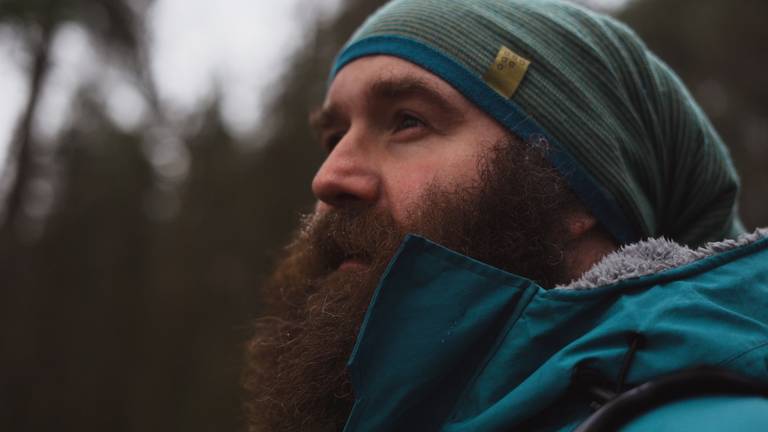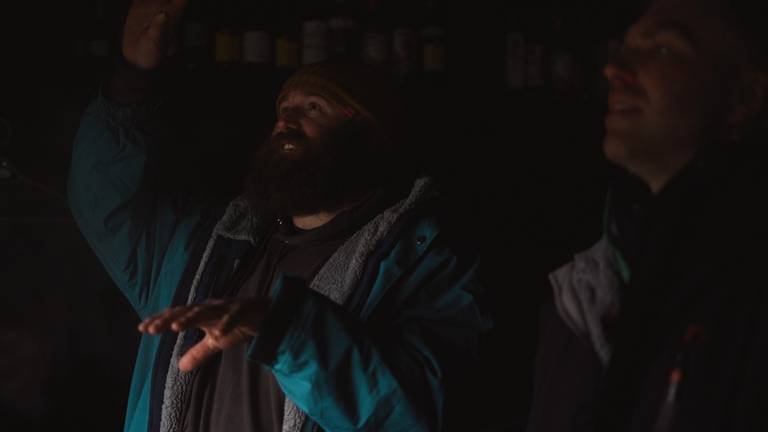 Fenwick trains around 6 – 8 times a week in the Lake, sometimes 2 sessions in one day. Each week is different, he can get 1 or 2 long-distance swims in, other times he will be doing static cooling or hard sets of butterfly – his favourite stroke. He does sometimes switch up his training for butterfly by hitting the indoor pools, to achieve longer distances with the end goal of eventually being able to 'ice fly.'
As daylight crept in, we took a walk through the woodlands to get a real sense of the area and the surrounding wildlife. Fenwick's connection to the local wildlife resonated with us - he has so much respect for the nature that surrounds his lake, interrupting our conversations to point out wild birds, tadpoles, otters & an in-mate Robin called Big T.
Woodlands explored; it was time for a swim. On this occasion, we were out of luck with the lake being frozen (no axes needed), yet the water temperature was a piercing -1.8 degrees! This is still classed as ice swimming as is anything 5 degrees and below.
Seeing Fenwick easily get into the -1.8-degree Coca-Cola water on a freezing January day, you could just tell what a professional he is at understanding his body and the cold.
From his consistent weather checks to his amazing Team GB qualification for the World Ice Champs in Poland (he is one 1 of 12 selected) and his incredible axe collection, Fenwick's love for the cold demonstrates a true passion for life. He quite literally lives and breathes for the ice.
________________________________________________
''I'll just put my arms up on the ice and take in the scenery and just listen to nothing, absolutely nothing, embracing the cold, getting a cold hug off the lake''
________________________________________________
We have seen a huge boom for cold water swimming with many people taking up the sport to experience the amazing benefits it can have on your mind and wellbeing. Lockdown and social media have certainly played a part in its growth with more people sharing the euphoria they get from immersing in the big blue.
The biggest danger to swimming in icy water, Fenwick explains, is knowing the safety elements and understanding your body. It is important to slowly build up a tolerance to the cold, as everyone is different. There are so many factors that vary in each person when tolerating the cold - male and female, injuries, sensitive skin, stress, diet, sleep, natural bio preen, hydration; It is important to take it slowly allowing the body to adjust step by step.
The phrase Fenwick uses is the 'adaptation and habituation process', which effectively determines someone's progress on how quickly they adapt to the cold, dependent on the factors above. Getting adapted to the cold water, going through the habituated process is different for everyone, getting in the water, getting stronger everyone will always be at various stages.
Some of the best advice Fenwick gave us was to get a coach, start building up tolerance in the summer, in the warmer months, listen to your body and how it is adapting to the cold and most importantly this step-by-step process will help settle the mind and strengthen that vagus nerve. The vagus nerve is one of our main nerves we use on a day-to-day basis, by stimulating it, it will help boost overall mood, wellbeing, and resilience.
________________________________________________
'''The colder the better, the better buzz and bigger kick''
________________________________________________
For Fenwick, the art of working with the environment continues long after he has stepped out of the water. He shared with us his re-warming routine and describes his masochistic love of the shivers or more commonly known in the ice swimming world, shiver response. Re-warming is a process that is overlooked, however for Fenwick he slowly builds back the warmth he has lost during his training session. Sitting by the gas fire, adding layers & layers of clothes; his Pro Change Robe Evo, gloves, hats, thick socks, enjoying a brownie and some hot chai tea. Embracing the shivers are all part of the buzz.
________________________________________________
''Shivers are a good thing, it's exciting to rewarm the body and analyse the body when coming out of the water embracing the shivers, all you need to do is let your body relax and don't fight them, I'm addicted to the sensation of shivering after a swim below -2 degrees''
________________________________________________
The shivers turned into chatter as this northern soul shared with us his plans for the year ahead and his ever-growing bucket list of adventures. We let the afternoon and his tales wash over us until long after Big T had clocked off for his nightshift. With no fear of ever getting cold, this humble ice swimmer carried enough warmth to keep us all toasty well into the evening.