Return to blog
Everything You Need To Know About The New Red Kid's Changing Robe Collection
Posted by Alex Clasper
After a truly child-first design process that combined decades of technical expertise with an awareness of what kids and their parents really want from a changing robe, we are super excited to announce the launch of our new collection of kids waterproof changing robes.
Combining fleecy cosiness with total waterproofing and the practicality needed to handle the demands of young adventurers, this collection is one of our most versatile yet. And what's better than one new changing robe design? Two! That's right, we've landed on a double-whammy set of brand-new and epic styles: the Red Kids Red Kids Dry Pro Robe and the Red Kids Dry Poncho. Here's why we're so excited.
Functional Design
When designing our latest collection of kids waterproof changing robes, it was obvious that we wouldn't get very far without a functional design. Practicality has always been a priority here at Red anyway - we'd much rather our products get the basics spot on than overpromise and underdeliver.
Busy and outdoorsy children need a changing robe that both they and their parents can rely on, and that's exactly what our new range offers. Whether on-shore or fresh from activities in water, both the Dry Pro Robe and Dry Poncho are constructed using a child-friendly design that offers easy changing across all kinds of adventures. Simply pop our Poncho over the child's head or slip into the full zip front of the Pro Robe. Parents can enjoy added peace of mind, too, with reflective hi-vis details making it easy to spot your little explorer when they're enjoying some important independence.
Multiple Colours Available
While functionality is essential, so is looking good. Kids are sure to enjoy donning their waterproof changing robe after their favourite activity as both products in our newest collection come in a complete array of child-friendly and unisex colours. Stay cosy and content with a navy robe, stand out in red, or show off some serious style with a bright marine blue. Whether your child wants to stand out or you wish to keep things classic, we've made sure that there's a colour to suit.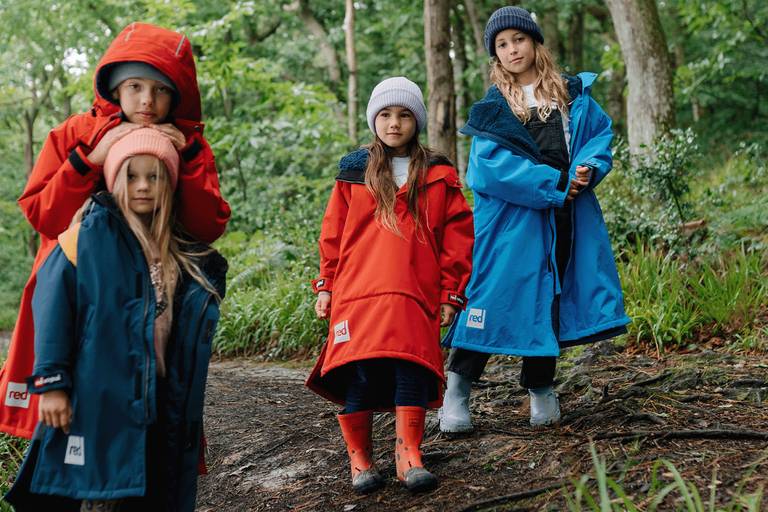 Complete Waterproofing
One of the reasons we dedicated our time to creating the perfect kids changing robes is that children were often let down when it came to the features of their options. Where adults changing robes prioritise protection from the elements, kids changing robes often offer little more than a place to dry off after the beach and we wanted to change this. That's why the Dry Poncho and Dry Pro Robe are both made from technical 8k/3k waterproof fabric that's particularly brilliant at getting water to run off quickly. Gone are the days of needing different coats and robes for different occasions, as our new collection provides the waterproofing your kids need for all of their pursuits.
Warm & Cosy
With waterproofing sorted out, we also wanted to guarantee that our new kids changing robes deliver on the warmth front. Both styles are lined with a super-soft and child-friendly sherpa lining which offers a number of benefits. Not only can this lining keep your kids insulated in the cold, but it also helps to dry them off if they've had a dip in the water.
We've made sure the pockets of our new robes are just as useful too. On the front of the Dry Poncho you'll spot a handy and roomy kangaroo-style handwarmer pocket, perfect for tucking away treasures as well as keeping hands nice and toasty. The Dry Pro Robes are complete with a pair of equivalent hand warmer pockets, situated on either side of the main zip for convenience with this design.
Sizing For All Ages
Lastly, we understand how frustrating it can be when your kids quickly grow out of their best gear. That's why we thought long and hard about how we could reduce the need to keep buying new when we drew up plans for the Dry Pro Robe and Dry Poncho. We've stuck to the core sizing of 4-8 years and 8-12 years across the range, with the added bonus of a clever elasticated sleeve cuff design that will grow with your child.
For more information about the Red Kids Dry Pro Robe and Red Kids Dry Poncho, please don't hesitate to get in touch with our expert team.