Return to blog
Day Tripper – SUP adventures on the Isles of Scilly
Posted by Robyn Dawson
Fancy paddleboarding on crystal-clear waters and exploring secluded white sandy beaches with your SUP? Well, we know just the place and there's not a long-haul flight in sight. Welcome to the Isles of Scilly.
Located just 28 miles off the coast of Cornwall, the Isles of Scilly is the UK's largest archipelago, offering up endless miles of untouched islands and secluded beaches that make this the ultimate paddleboarding playground. With only 5 inhabited islands, the region is home to hundreds of glistening unspoilt bays and serene blue waters, providing a natural sanctuary for marine life, wildlife and seabirds.
When we were first invited to explore the Isles of Scilly, I knew the islands were a popular destination for wildlife spotting and bird watching, but it wasn't until I saw the breath-taking images of empty beaches and glistening azure waters that I quickly understood why it's also a paddleboarders' paradise. For those looking to Upgrade Your Adventure and put your SUP skills to the test, the Isles of Scilly couldn't be better suited, offering up a Caribbean-style setting that is just a hop, skip and jump from the Cornish coast.
There are several ways to enjoy a trip to the Isles of Scilly. You can either book accommodation to extend your stay or head out for a one-day SUP adventure with your paddleboard in tow. For us, this was the perfect opportunity to test out the brilliant transportability of the Red Paddle Co Compact board range - the perfect companion for mini SUP adventures, pairing easy packing with uncompromising quality.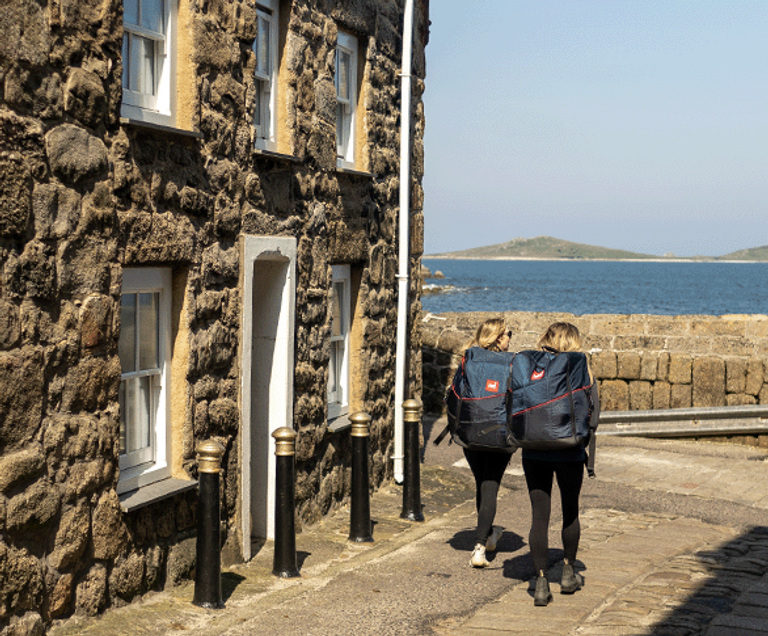 There and back again… A day trip to the islands
Compact bags on our backs, we started our day early having booked onto one of the first Skybus flights of the day from Penzance. Forget lengthy airport queues and hours of waiting around, our transfer to the Isles of Scilly was swift and totally stress-free. We parked our van in the car park nearby and arrived at the airport shuttle pick-up point just outside Penzance Train Station which dropped us straight at the front door of Land's End airport in a mere 15 minutes.
We arrived with plenty of time so grabbed a quick refreshment from the onsite airport café before embarking on a super sleek check-in that took no time at all. The open-plan waiting area is perfect for enjoying the panoramic views of the airfield where the Skybus flights are lined up ready to take off to the Isles of Scilly, a little piece of paddleboarding paradise that you can see hovering on the horizon on a clear day.
Once on the plane we strapped in and kept our eyes glued to the windows so not to miss the incredible bird's eye view of the Cornish coastline before the beautiful islands crept into view. The 20-minute flight is an adventure in itself, providing a breath-taking way of travelling to islands, and after a surprisingly smooth landing, we stepped off the plane straight into St. Mary's airport just as our Compact bags rolled up the conveyer. We were swiftly welcomed by a friendly bus driver who dropped us off at the centre of Hugh Town in St. Mary's to kickstart what would be an epic one-day adventure.
Choosing Your Island Adventure
The first challenge of a day trip to the Isles of Scilly is to decide which one of its beautiful islands to explore. With only 5 of its islands being inhabited, there are countless others to discover, each with their own allure. One option is beautiful Bryher, where you can head off for a walk around the island, following the coast path through Veronica's Farm until you reach Hell Bay. Don't let the name fool you, this is the perfect spot to set off in search of SUP heaven in the form of Samson, the largest of Scilly's uninhabited islands, and which, chances are, you can enjoy all to yourself.
We decided Tresco would be our adventure island for the day, and after a quick coffee in St. Mary's we strolled to the quay and hopped on the 10:15 tripper boat. This was our first chance to get up close to the crystal-clear water and we were itching to get our boards pumped up and ready to go. Thankfully it was just a short 20-minute ride and as the greenery of the island came into view, we knew a day trip to this subtropical gem wouldn't disappoint.
Arguably one of the most beautiful spots on the Isles of Scilly, Tresco is the second largest island in the archipelago, home to the world-famous Tresco Abby Garden, not to mention endless miles of crowd-free beaches and a rocky North shore peppered with shipwrecks aplenty. Arriving at Carn Near Quay, we strolled up the road before spotting Carn Near Bay – completely unoccupied and with white sugar-fine sand that could have been plucked from a Caribbean beach.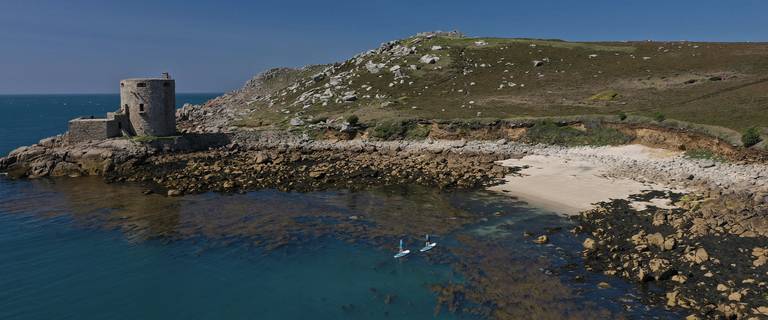 Discovering Paddleboard Perfection
It was time to get out on the water and from here we paddled up and down the bay, peering down at the towers of seagrass below, keeping our eyes peeled for fish or even a seal, if we were lucky. We heard a small flock of birds above us, which at first glance I assumed were ducks but turned out to be a posy of puffins squeaking on their perfectly-timed flypast. After some more exploring, we came back to shore, strapped our board bags on the front of the boards and paddled around the point towards the larger Apple Tree Bay.
Hugging the coastline, we made our way to New Grimsby where we stopped off for refreshments at the picturesque pub, the New Inn. From here we took the boards a little further up the island towards Cromwell's Castle where we spotted an isolated bay surrounded by reems of seagrass – a little tricky to navigate through, but well worth the effort to view the castle from another perspective.
Back on the boards, we made our back down the coast to the sub-tropical Tresco Abbey Garden. Having been on the boards all morning, we packed our Compacts away and went for a quick exploration of this little piece of horticultural paradise, before making our way to the quay for a 2pm collection back to St. Mary's. Not wanting to wave goodbye to the stunning Isles of Scilly, we reluctantly began our return journey back to the mainland on board the Scillonian III ferry, checking in at St. Mary's Quay before settling in for the 2hr 45min journey to Cornwall.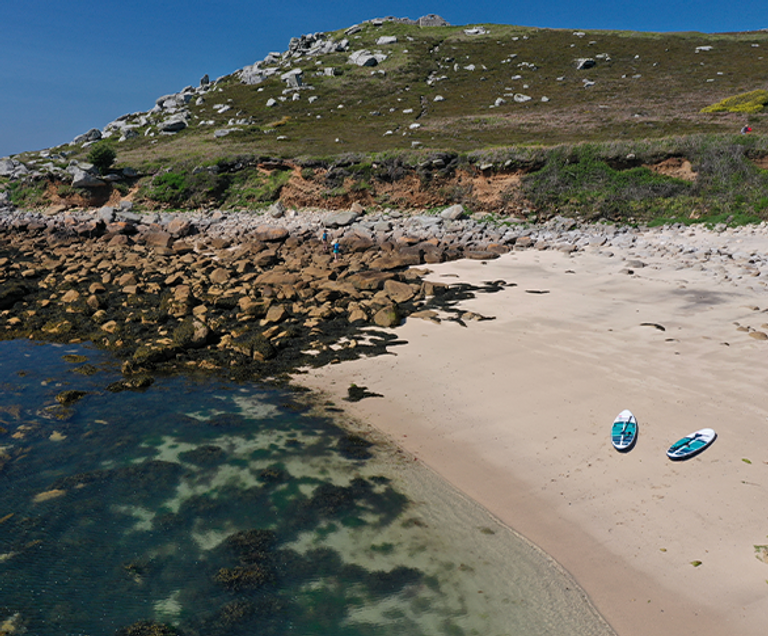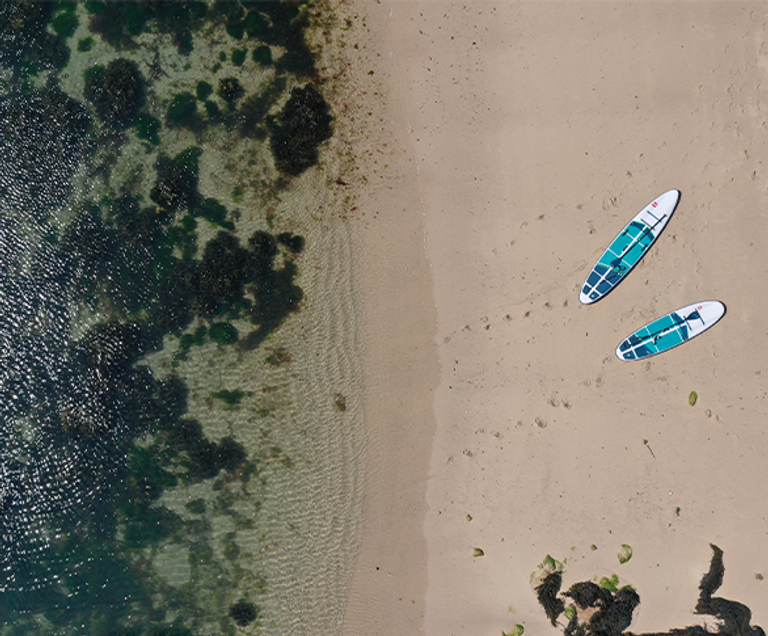 Things To Note
Our trip to the islands didn't disappoint, and as our Compact inflatable SUP proved, a day trip to the Isles of Scilly is not only possible but a must on your paddleboarding bucket list.
We packed the 9'6" Compact SUP as well as the 12'0" Touring Compact board – both of which offer different benefits for a trip like this.
The 9'6" Compact is one of the most transportable boards in the Red Paddle Co range, and as an excellent all-rounder it's a versatile choice offering great manoeuvrability on the water.
The 12'0" is a slightly heavier package, but as a touring SUP the extended length offers fantastic glide for going longer distances around the crevasses and bays you'll come across when visiting Scilly.
To make the most of your time on the Isles of Scilly, we highly recommend the Fly Sail package. This way you get to see the islands from all perspectives and with the right Compact boards on hand you can fly out and sail back with ease.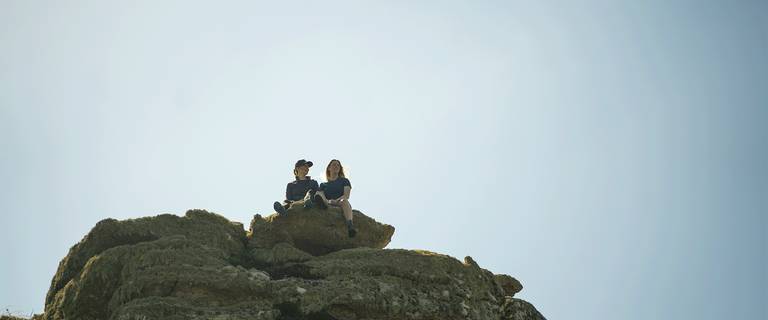 Safety Note:
While we were relatively lucky with the wind during our visit to Tresco, it's important to note that the weather around Scilly can be very interchangeable. We experienced plenty of strong gusts and had to adjust our plans accordingly, and as such, remained close to the shoreline, as well as pre-planning our trip well ahead of our visit.
If you plan to do similar SUP adventures, download the Windy App before choosing your SUP route and ensure you have the right safety equipment, including a leash, buoyancy aid and means to call for help, should you get in trouble. You can also ask the locals for advice on the wind direction when you arrive - they are always happy to share their local knowledge to ensure you get the best experience. Remember always P.L.O.T. your paddle.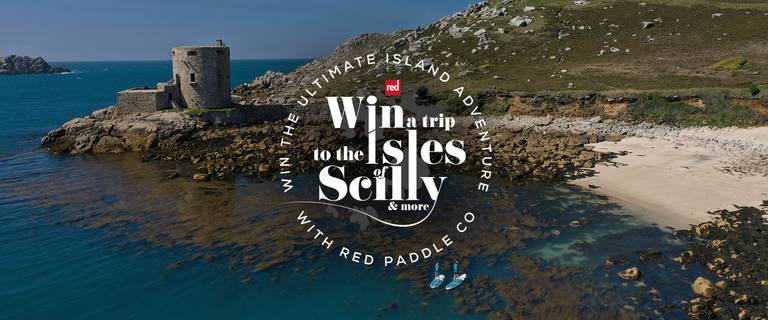 Fancy breaking your board in with the ultimate mini adventure?
Register your new Red Paddle Co board for a chance to win a stay on the beautiful Isles of Scilly.
We've paired up with Isles of Scilly Travel to offer a family of four a luxury break to this beautiful piece of paddleboarding paradise, plus £500 spending money and a bundle of Red goodies.
Enjoy a three-night self-catering stay at the luxurious Reculver in St Mary's, with return travel for a family of four onboard Scillonian III from Penzance.