Return to blog
A Year in the Making - The Micro Fibre Towel
Red Original
Posted by Ross Montandon
At Red Original we believe that designing products from the ground up is essential and pride ourselves in being able to bring you products that will allow you to enhance your outdoor experience. We didn't want to just find an existing product and stick our name to it. We wanted to ensure that every product, from the top premium Deck Bags and Waterproof Cooler Bags right down to our insulated water bottles were designed with the user in mind.
To conclude our Year in the Making Series we take a look at one of our smaller products, the Micro Fibre Towel. Simple in it's function and oh-so handy, however yet again we found those currently available weren't worthy to the keen outdoor enthusiast, so we set about designing our own.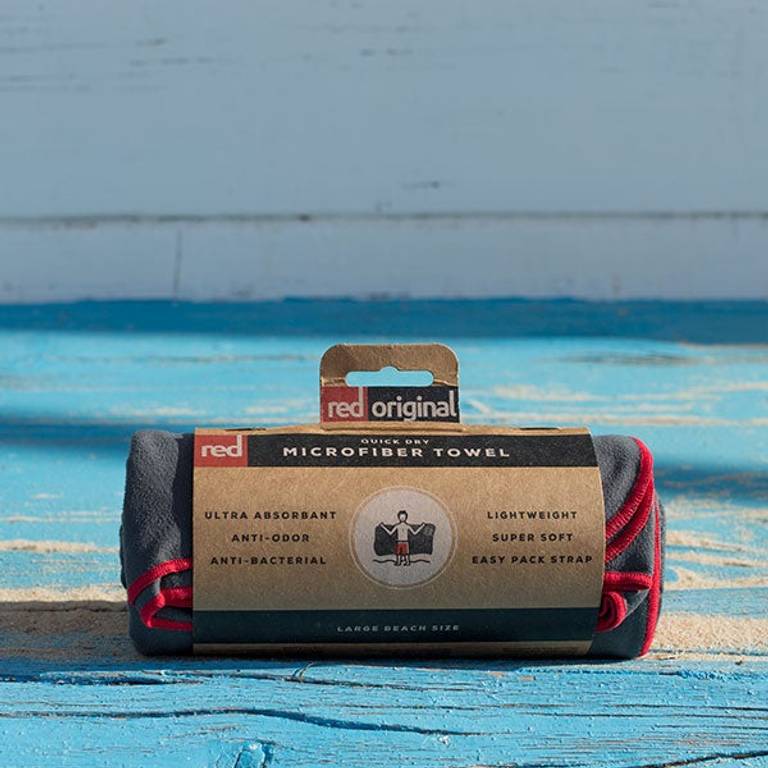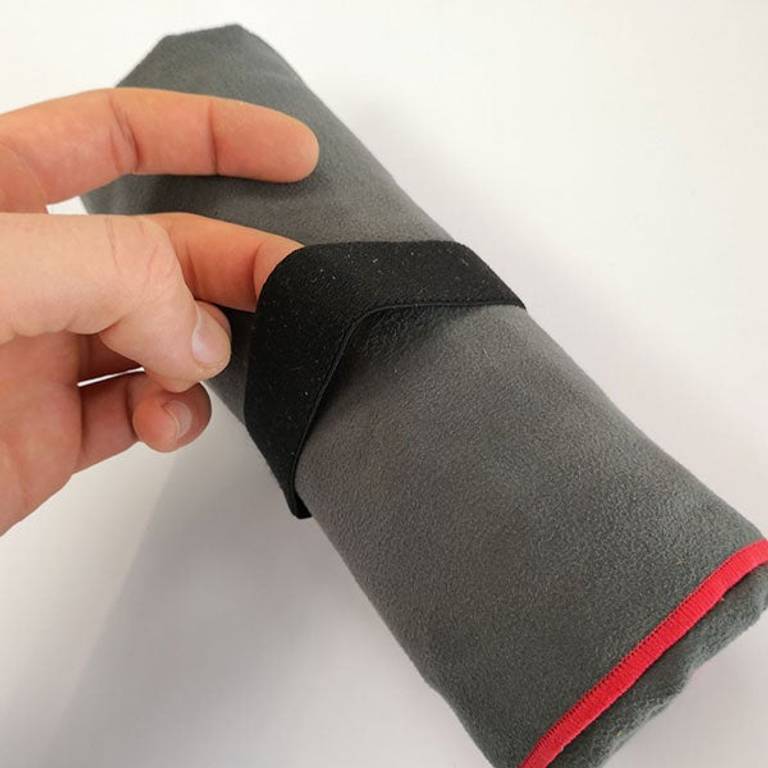 The Perfect Travel Towel
The needs from a towel are pretty simple for a budding traveller or someone who is always on the go, however we found the Micro Fibre Towels on the market were once again disappointing. The fabric never felt that great against the skin nor did the towels fully wrap around the body which is perhaps one of the biggest functions you would want from a towel designed for outdoor user. We felt that we shouldn't compromise in the size of the towel nor the tactile feeling of how it felt. Could we re-create that snug feeling that you get from those lovely soft towels you get at a spa or posh hotel? Could we integrate that level of quality into a small, compact towel? It was time to find out, as we set our Design team to work!
The Brief for the Best Micro Fibre Travel Towel
Full Size
There seemed to be a trend in the research with other brands, in order to make something compact you simply reduce the size. We wanted to have a full sized towel that could also pack down small. In order to get the sizing correct we needed to get the material just right! Too thick and you'd have the comfort but not the compact size, if we skimped on the thickness of the towel to reduce the size our towel wouldn't have the comfort or functionality. We needed to get it just right!
Compact
We always aim to create products which become our customers go to choice, on a day to day basis. We wanted it to be the choice for Gym goers, beach dwellers and those who want something for that overnight bag for a weekend away. The towel needed to pack down small to provide versatility for any outdoor enthusiast.
Quick Drying
Our design team is comprised of keen outdoor enthusiasts, surfers, bikers and paddle boarders. Come the weekend just like you, we want to maximise our time outdoors. The quick drying function for the towel was crucial, we wanted to sling the towel over a rail or washing line and throw it into our beach bag for consecutive days at the beach. The towel also needed to dry our bodies well, this was one of the odd experiences whilst researching other travel towels. Many of the fabrics felt uncomfortable when drying and some simply just moved water around without absorbing or actually drying us off.
Odourless
One of the unexplainable traits of other microfibre towels is the odd smell it creates if it's been used multiple days in a row. We wanted to find a fabric which could control the odours and perhaps manage longer without having to be washed reducing our impact on the environment.
Finding the Fabric
How do you test the dying capabilities of a fabric? Well to be honest it's pretty tricky, as measuring how dry a towel is varies on personal preference. So we lined up the samples, got the tap primed and ready and started testing each material to see how well it dried us and recording what it felt like.
Did it Dry
One thing was essential with the towel it's primary function to dry us when wet was key. The best way was to try a range of fabrics amongst our test team. Some fabrics didn't really absorb any moisture whilst others felt rough to the touch. Whilst others simply just moved any moisture around the body without actually drying.
How did it feel to use?
We wanted that snuggly, cosy feeling that you get with big soft bathroom towels. If we could re-create this in a micro fibre towel we knew we'd be on to a winner! Making a towel is a very tactile business we wanted a fabric that was soft enough to touch yet could handle the outdoor elements and not collect dirt and grime. By using multiple members of the team to test each material we were able to quickly find the perfect material which ticked all the boxes.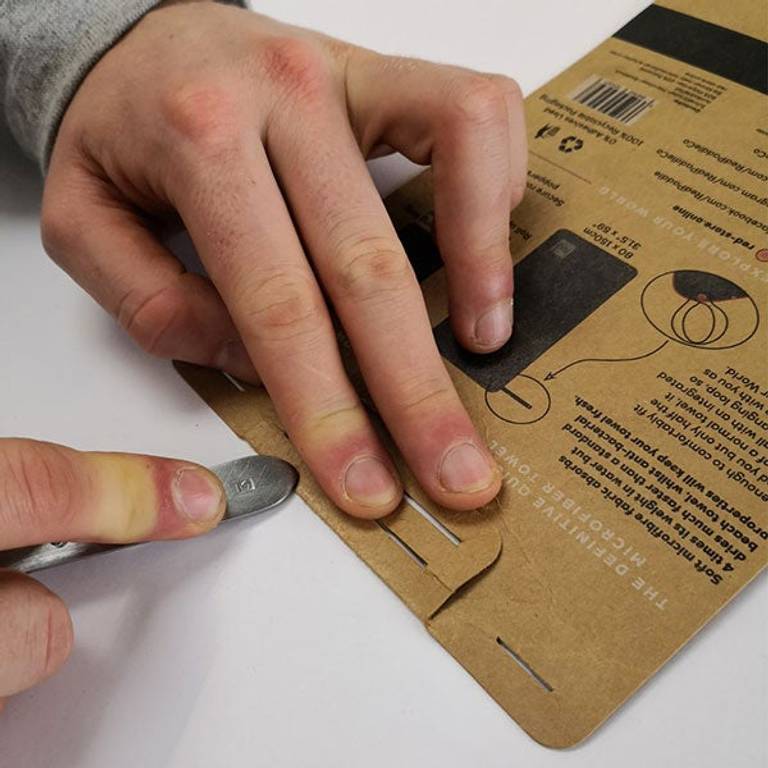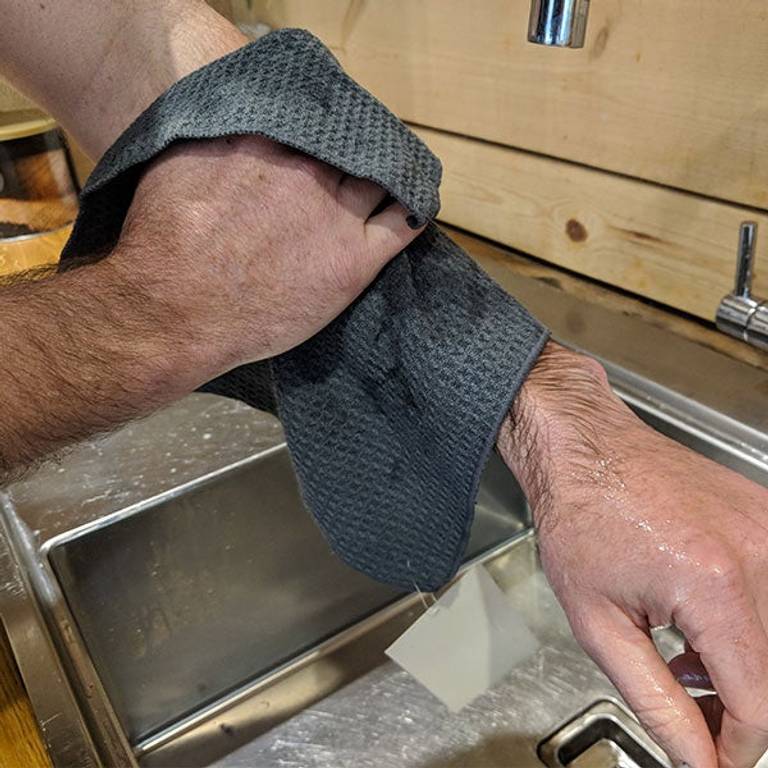 Key Features
After testing over 20 different materials we finally found a fabric that was worthy of a good Micro Fibre Towel. It allowed us to get dry quickly, pack it up small, dry faster than our normal beach towel and still maintain the size of a full beach towel when fully rolled out. The fabric we selected also featured antibacterial fibres which kept the towel fresher for longer and avoided those unpleasant wet dog smells.
Extra Absorbant
After many many samples and testing from textures in regards to their pack down size. How they felt and the ability to dry water off our bodies. Our towel as it turns out can hold up to 4 times it's weight in water and dry four times faster than your average beach towel. It also has the ability to pack down super small making this the perfect Micro Fibre Towel.
Beach Size
The towel needed to pack down small, otherwise it lost it's functionality but by deciding we wanted to make a large full sized towel add another dimension to the design process. Having a towel that didn't lose shape over time or alter size after washing was key for us to create a long life product.
The Ultimate Travel Micro Fibre Towel
Our Red Original Micro Fibre Towel ticks all the boxes when it comes to creating a premium, comfortable and fully functional towel. A small yet useful item from the day to day gym goer to the seasoned beach lover. If you're looking for the perfect gift for a birthday or for you son or daughter on their gap year, then I am sure our towel will not disappoint!