Embracing great outdoor family activities
"No one will protect what they don't care about; and no one will care about what they have never experienced"
SIR DAVID ATTENBOROUGH, Broadcaster and Naturalist
We all know that nature sparks imagination and creativity in a child's development but living in our fast paced, modern society it is all too easy to get consumed in our busy working lives and forget the benefits the outdoors has on our younger generations and the family as a whole.
Recent studies in the US have shown that children are spending half as much time outside today as they did 20 years ago. We clearly need to work hard to re-build that connection with nature on daily level and improve our younger generations health and well-being through a consistent relationship with the outdoors.
That said, there are some inspirational people out there proving that if you love it enough, nature and the wilderness can easily be part of everyday family lives. To better understand how to grow this connection we talk to water sports enthusiast, Georgie Sowman, as she shares a few top tips for getting the family excited about the great outdoors…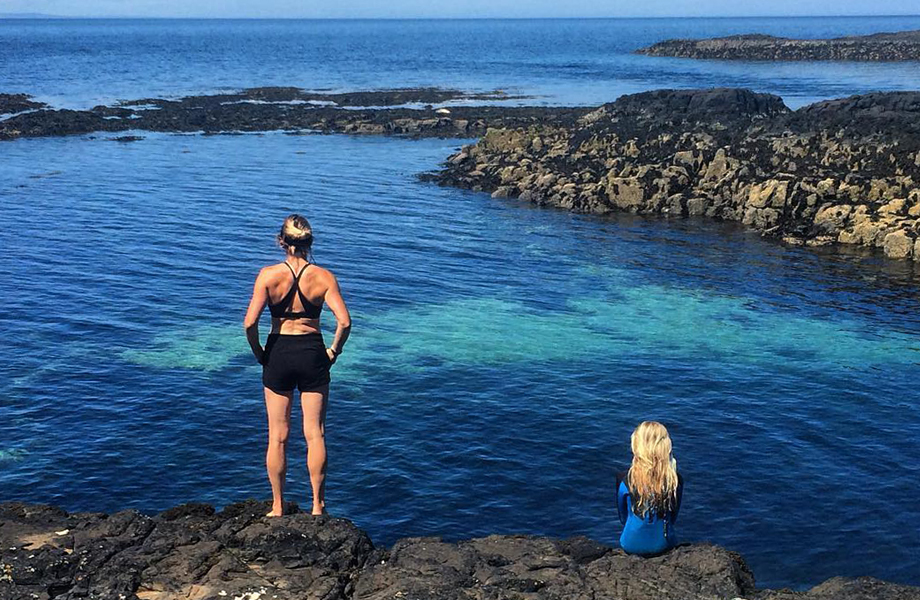 Just Add Air: Spending time as a family in the great outdoors
It is not every day you meet someone who radiates boundless energy and genuine positivity that you feel all the brighter for simply being in their company. Georgie Sowman is one such woman.
Mother of three, first and foremost, Georgie works part-time as a GP in the North East of England. When she's not looking after the kids or at working at the surgery, there's pretty much only one other place you will find her – the Ocean. After meeting Georgie and her high-spirited family at the inaugural Dragon World Championships in Barbados, we were keen to find out what it is she truly loves about paddle boarding and getting out on the water…
Georgie – "I love paddling for so many reasons, but I think the biggest reason of all is the freedom and adventure it gives me. With SUP there are very few conditions in which I can't get out into the ocean, rivers or lakes, even in the winter. When the children were tiny a precious 40-minute session could transport me into the most beautiful scenery, to reconnect with nature; a perfect cure for sleep deprivation."
Spend time as a family and keep doing what you love
Georgie and her husband have always shared a passion for the outdoors, and in particular watersports. Having seen the family of five come together and paddle as a team on the mighty Dragon paddle boards, it's clear to see this passion has 'rubbed off' on their three children, but has always been the case?
Georgie – "My husband and I met through a passion for the outdoors so when the kids arrived, we found that we weren't very good at driving them to activities and parties at weekends to just sit on the side. Instead we decided to keep the weekends free, so we could adapt to the conditions, spend time as a family, and keep doing what we loved. As the kids grew, they started to join us on the water.
As a GP I'm interested in the health benefits of connectivity to nature , wilderness and playing outdoors . In 2005 Richard Louv describes nature deficit disorder – and while this is not a medical diagnosis , there is emerging evidence that time spent outdoors is important in preservation of physical and mental health."
"Kids have plenty of targets, tests and pressures. For us heading into the ocean, connecting with nature around us and feeling free is a brilliant way to build memories and keep us all healthy."
Some things have to give and remember it is easy to put kids off
Working as a busy GP, Georgie has an understanding that to balance day-to-day tasks with your passions, is all about give and take. Thanks to the easy set-up, inflatable paddle boarding involves very little kit so even with very little time, it is easy to get onto the water. So how does Georgie manage her own time while inspiring her kids to get out and soak-up the fresh air?
Georgie – "Paddling means absolutely being touch with the weather, the tides and the seasons. This awareness and involvement with nature brings so much joy to myself, my family and friends. SUP surfing in–particular is also great as a busy mum because you don't have to wait for perfect conditions. That said, somethings have to give. I spend very little time on clothes or make-up, only visit the hairdresser twice a year, and go for minimal effort cooking with variable results!!!
And for the kids, there is definitely balance involved, and it's easy to put kids off. They don't always want to put on a wetsuit, and they don't like to get cold or frightened. Keeping them keen means keeping expectations realistic and not feeling that you've failed if they don't fancy joining you –having hot chocolates and ice creams at the ready afterwards helps."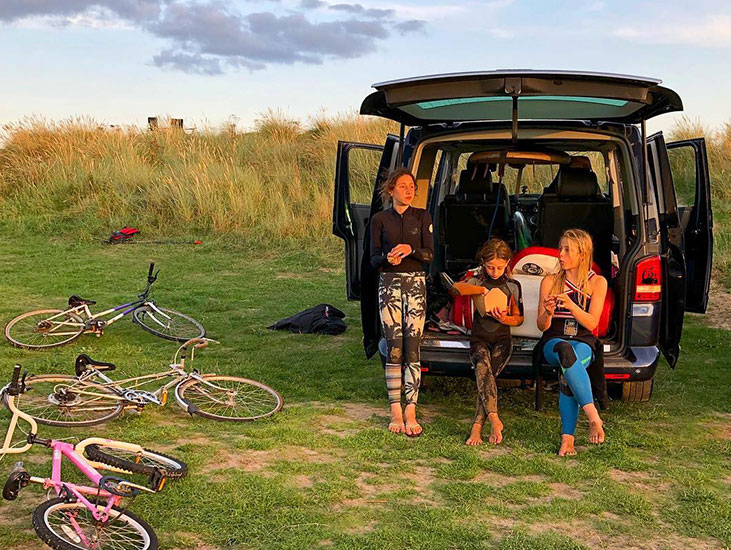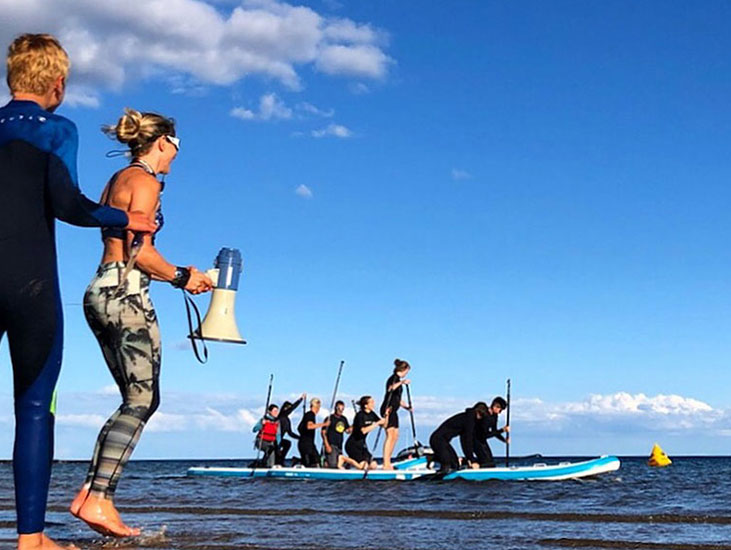 If you are passionate about something, share it with your kids
Channelling a passion for life and the great outdoors, Georgie is a great example of 'practice what you preach'. Paddling and surfing all year round she tends not to set herself challenges or targets, proving if you are doing something you love, any added benefits are simply icing on the cake and the kids naturally tend to follow suit…
Georgie – "Paddling makes me feel energised, both physically and mentally. Going for a paddle doesn't feel like exercise, and yet SUP involves cardiovascular, resistance and balance training, without ever being routine. I don't tend to set myself any targets or challenges, I just get out and paddle, and I love that every session is different.
I think, most importantly when the kids see us adults still absolutely stoked from going outside and being active it makes the whole experience more natural and appealing to them and hopefully will continue into the future when they become adults too."
"When the kids see us adults still absolutely stoked from being active it makes the whole experience more natural and appealing to them..."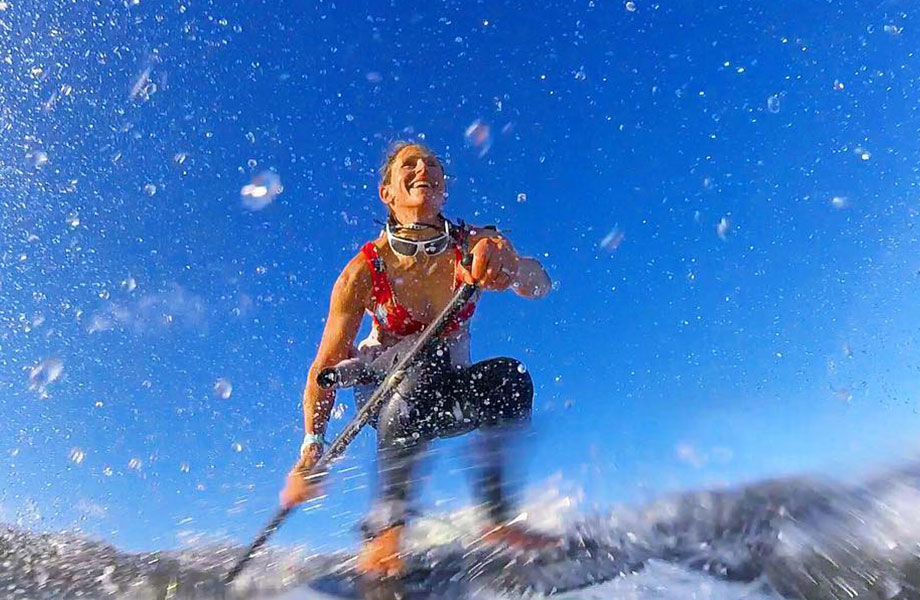 Embrace the seasons and take strength from the cold
As a regular paddler in the North East of England Georgie can't be too picky with the weather conditions and the chilly waters that come as part of the experience. That said, surely there are some days when it is more tempting to stay indoors on a cold grey day?
Georgie – "I enjoy paddling all year round. In the summer the sea is warmer, but in the winter the sunsets and dawns are spectacular, and the surf breaks are quieter. I don't mind the cold at all; because wetsuits are now so warm and cosy, and once I'm paddling, I warm up so quickly. I find a cup of hot water in your booties if they're icy can help. Sometimes if the weather looks grey and uninviting, I do need a bit of extra motivation from my husband and family – but they know that I will come back having had a brilliant time. I might be joined by a seal, I might find an unexpected wave to play on, and there might be a rainbow. And even if nothing like that happens, after exercising in the cold, I feel so invigorated and refreshed. There are many targets and timings in my job as a GP, so I don't like to formally train or set myself targets. It's just beautiful out there and I find this motivation enough."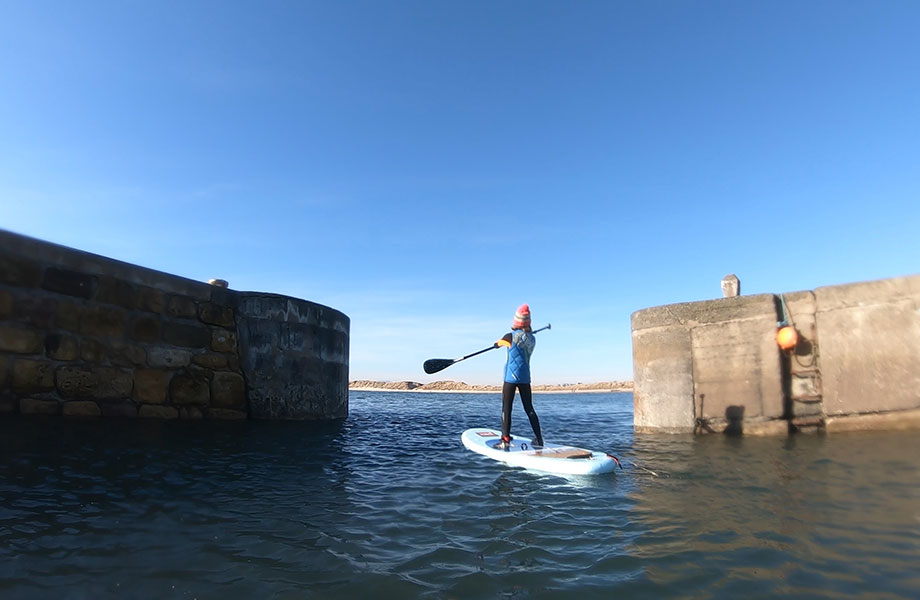 "Inflatable paddle boarding is a perfect way for families to have everything they need to get outside, have fun, learn and develop"
Find a fun event for the whole family
Georgie and her family have taken part in the Dragon World Championships for two years in a row and found the experience a fantastic way of testing not only their skills as paddlers but also as parents, so does she have any advice for families wanting to sign-up to an event or try a new outdoor activity together this year?
Georgie – "Competing together as a family has been an amazing experience. Paddle boarding at the DWC together involves team work, communication, as well as some strategy – so facing this with the kids, whilst also parenting and trying to ensure best behaviour (we didn't always manage this one!) was brilliant. My advice to anyone looking to take part in this or any family event would be to go for it. Inflatable paddle boarding is a perfect way for families to have everything they need to get outside, have fun, learn and develop.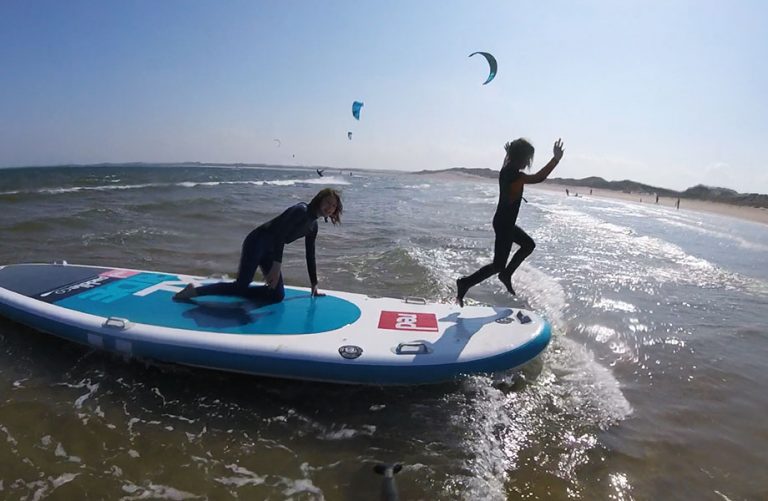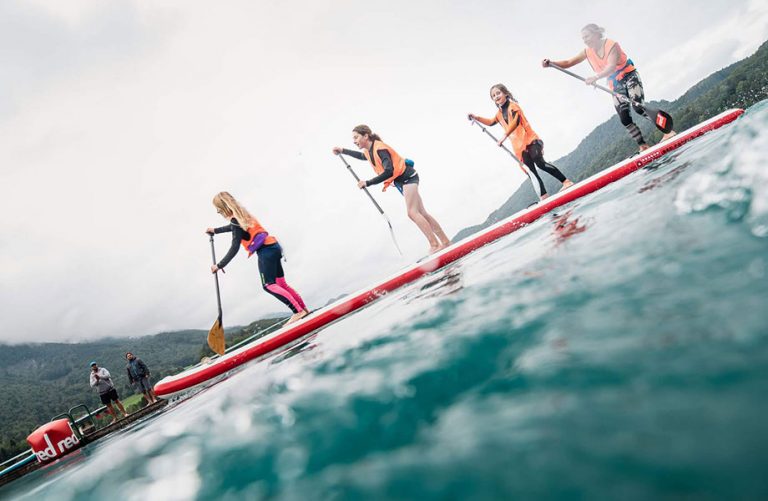 There you have it – it is time to get outdoors, get stuck in and reap the rewards nature has to offer.
A big thank you to Georgie for taking the time to chat to us and for sharing some really worthwhile tips. If you are feeling inspired to spend some quality time with your family, simply 'Just Add Air' and show your kids their is so much to love and learn from the great outdoors.