Return to blog
5 Unexpected Benefits Of Cold Water Paddle Boarding
Posted by Alex Clasper
Being totally honest, the thought of paddle boarding in cold weather isn't likely to appeal to a lot of people. However, once you know the benefits of cold water paddle boarding, we guarantee you'll have a different take on the idea. You may be surprised to hear that the winter is actually one of our favourite times of the year to enjoy a paddle. Helping to beat the January blues, while offering new and unique perspectives, there are tons of reasons to love cold water paddle boarding. Let's find out what they are:
Avoid The Crowds
During the summer, popular waterways become noisy and crowded, making it more difficult to enjoy a relaxing SUPing session. In the winter, this isn't a problem. As cold water paddle boarding is less popular, you get the water pretty much to yourself in a lot of places. This makes for a more relaxing experience, enabling you to take in the sounds of the water and nature around you, all of which provide a fantastic way to de-stress.
Experience New Scenery
Winter weather creates some of the most spectacular scenery. By embracing cold weather paddle boarding, you could soon be paddling against the backdrop of stunning snow-capped mountains and frosted coastlines. Being on the water provides you with a unique perspective on your winter surroundings, with the chance to take in the most epic scenery and wildlife of the season.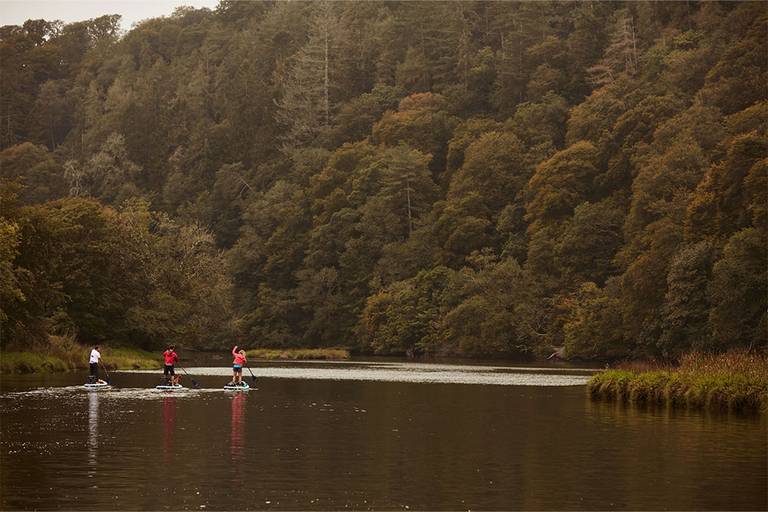 Get A Good Workout
We all know how hard it can be to keep fit during the winter months. One of the main benefits of cold water paddle boarding is that it provides an enjoyable way to boost fitness during the winter. When you paddle, you use your entire body to propel the board forwards, working muscles in your arms, legs and core. The act of balancing on the board requires the use of core strength, and is a great way to improve your overall balance and coordination.
Relax & De-Stress
One of the most amazing benefits that comes with paddling in cold water is the sense of mental clarity and relaxation that it provides. Being out in the crisp, clean air surrounded by nature is a great way to calm the mind and reset. The soothing movement of floating on the water, coupled with the endorphins that the physical aspect of paddle boarding provides, makes this activity the perfect way to unwind during the winter.
Spend Quality Time With Friends & Family
You should never go cold water paddle boarding alone, and in fact it's much more fun to go out with others anyway. SUPing in cold weather is a great way to keep your spirits up during the winter, providing a fun way to catch up with loved ones, whilst enjoying some good exercise at the same time. If you're new to paddle boarding, there are lessons that run throughout the winter, where you can meet new people as you learn a new hobby.
Before you head out cold water paddle boarding, make sure to read our 6 tips and considerations when winter paddle boarding for essential gear and safety recommendations. You can also read our guidance on what to wear paddle boarding in winter. If you have any queries at all about your next SUPing adventure,please don't hesitate to get in touch with the Red team for tips and advice.