Return to blog
The Red Paddle Co Guide To Paddle Boarding In Cold Weather
Posted by Luke Green
Keen to keep paddle boarding all year round? Don't let the winter weather put you off! Whilst paddle boarding in cold weather is undoubtedly different to SUPing during the summer, it's actually one of our favourite times of year to head out on the water. Not only are waterways quieter, SUPing in winter is a fantastic way to beat the winter blues whilst experiencing some spectacular scenery in the process. In order to enjoy paddle boarding in cold weather safely, make sure to consider the following top tips from the team at Red:
Layer Up
Knowing what to wear when paddle boarding in cold weather is crucial for preparing for a successful winter SUP.If you're paddling in the ocean or in choppy waters where there's an increased chance of you falling in the water then it's best to wear a wetsuit with neoprene boots and gloves - this will help keep you warm and protect against cold water shock in the event that you do end up in the drink. On the contrary, if it's very unlikely you'll end up in the water i.e you're paddling in calm, flat water conditions, you don't need to wear a wetsuit and instead can layer your clothes. To keep yourself warm in winter conditions, we'd recommend the following layers:
Base Layer: Start with a moisture wicking base layer that you can add layers on top of. The Red Original Performance T-Shirt is lightweight and made using Dri-Release™ technology to stop sweat from clinging to fibres, keeping you fresh and comfortable.
Top Layer: An insulating layer on top of the base layer, like our Long Sleeve Performance Top will provide you with the warmth that you need. Offering unrestricted movement and a comfortable moisture wicking design, a long nick zep and thumb holes enhance warmth.
Waterproof Outer Layer: Winter weather can be unpredictable at the best of times so make sure to wear or bring a waterproof jacket with you. Easily packed down into a compact storage pocket, our Active Jacket is lightweight and easy to transport in your SUP deck bag or backpack, whilst still providing a 5k waterproof rating and under arm ventilation to ensure breathability.
Leggings/ Waterproof Trousers: A pair of neoprene paddle boarding leggings will work perfectly as a base layer for your bottom half. However, for extra protection from the elements you may want to wear a pair of waterproof trousers on top. If you find neoprene leggings uncomfortable, you can wear a regular pair of active leggings with waterproof trousers as a practical alternative.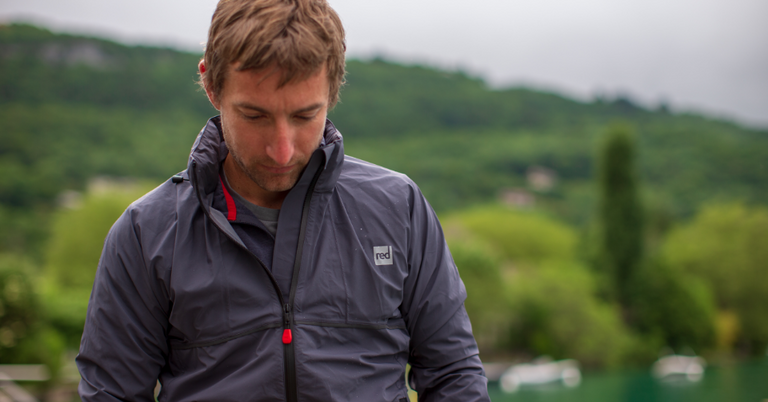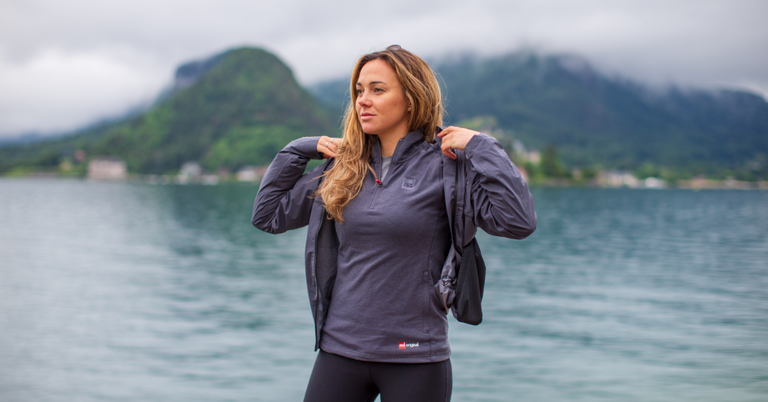 Protect Your Hands & Feet
When deciding what to wear when paddle boarding in cold weather, you certainly don't want to forget about your hands and feet! A super soft, insulating beanie will go down a treat when that bitter wind chill hits on the water. Our Merino Beanie is temperature regulating and moisture wicking, ensuring you stay cosy without overheating when you're paddling. The reflective yarn twist is particularly useful for increasing visibility in winter conditions. In addition to a warm hat, you'll need some waterproof gloves or neoprene gloves for your hands. Don't forget to keep your feet toasty with some thick water boots/shoes - these will protect your feet from any cold splashes!
Check The Weather
An essential part of your routine for paddle boarding in cold weather should be checking the weather forecast before you head out. The last thing you want is to be caught out in heavy rain or snowfall - this can be nerve wracking, exhausting and dangerous. Avoid paddling after heavy rainfall as this can affect the water levels, particularly in rivers, and increases the amount of loose debris that can be hazardous to water users. It's also really important to pay close attention to the wind speed and direction, as strong winds can blow you off course and make you tire more quickly. A final point on weather - if it's too cold, don't go out. Sometimes it's simply too cold to enjoy a nice paddle, and you don't want to make yourself unwell. It's always a better idea to wait until conditions are calm to enjoy the perfect winter paddle.
Paddle With Friends
It's always advisable to paddle with friends, rather than on your own, however this is particularly important when paddle boarding in cold weather. If you run into trouble, being with other people means there is someone there to raise the alarm and call for help. Not to mention, it's a lot more fun paddling with friends! Before you head out, tell someone on land where you're going and when you plan to be back. Bring a phone with you in a Waterproof Dry Pouch in case you need to call for help, and so that you can update people at home if you're delayed.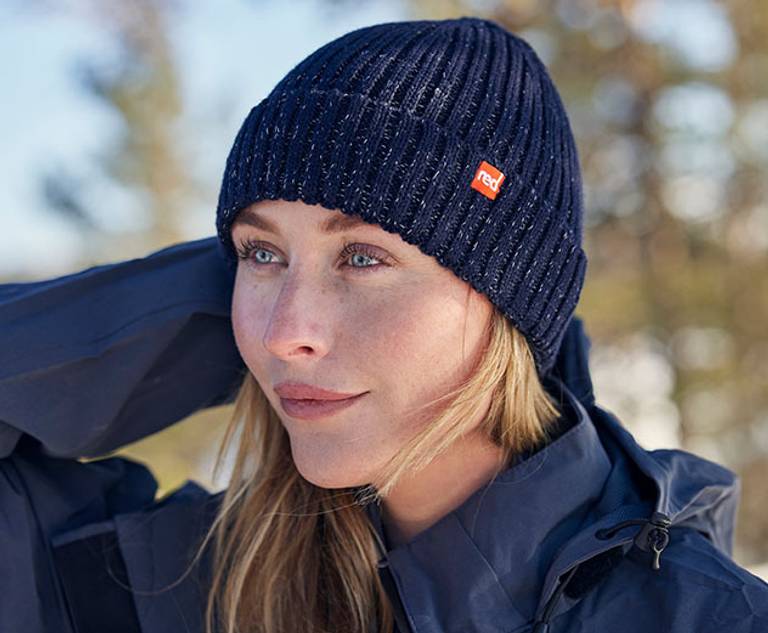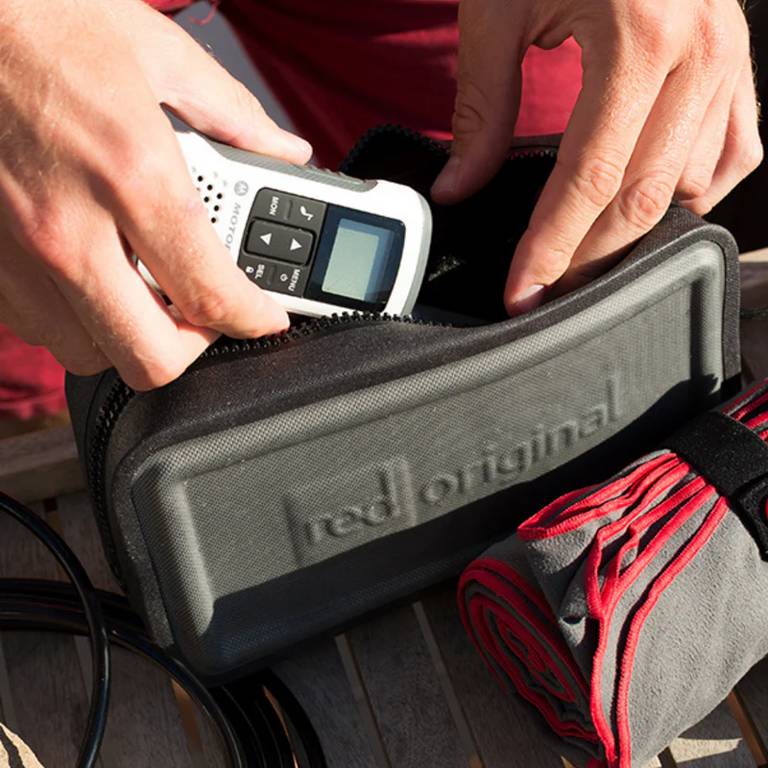 Wear Safety Equipment
When paddle boarding in cold weather, it's important that you're wearing the same safety equipment you wear all year round, namely a SUP Leash and a Personal Flotation Device (PFD). If you're paddling in flat water conditions you'll need a Coiled SUP Leash, and if you're SUP surfing then you'll need a Straight Leash - a leash is a vital piece of kit that prevents your board from drifting off in the event that you do end up in the water. In terms of choosing the right PFD, if you're an experienced paddler who's paddling in flat water conditions then an Airbelt PFD is a practical choice. The Airbelt PFD is a pouch that's worn discreetly and comfortably around the waist, and can be quickly activated to a full size buoyancy aid in emergency situations. If you're paddling in tidal or moving water, such as in a river then we'd recommend wearing a regular buoyancy aid, with a minimum 50N rating.
Don't Get Left In The Dark
Alongside checking the weather forecast in detail to plan your route carefully, you'll also need to check sunset times. As it gets dark earlier during the winter months, it's crucial to avoid being caught out and left to paddle in low light conditions, as this can be really dangerous. Aim to paddle towards the middle part of the day when visibility is at its best, and make sure you've planned the timings of your session carefully to avoid being caught out by the shorter days that winter brings.
Pack A Warm Up Kit
Once you've been paddle boarding in cold weather it's important that you keep yourself warm on the way home. A Red Original Waterproof Changing Robe is the perfect piece of kit for keeping you cosy and protected from the elements after a winter SUP, whilst making it easy to change outdoors discreetly. The Revolution 3-in-1 Change Parka features a 250gsm moisture wicking fleece lining and 10k/8k waterproof outer shell - the two layers can be worn together for ultimate protection from the elements or separately for different uses.Pack your favourite hot beverage in a thermal flask (alongside a few snacks of course) to help you refuel and warm up.You can use our Waterproof SUP Deck Bag to bring your snacks and drinks out on the water with you as well!