Whether you've made the jump and decided to set up your dream lifestyle job of running a paddleboard rental business or you have an established business already, one of the most crucial choices you'll need to make is deciding which boards you want to stock. As the paddle board market continues to grow, there is inevitably a wide range of options available to you, and the choice can seem a bit overwhelming. So, let's narrow down the options for you and take a look at why Red Paddle Co boards are the perfect choice for any paddleboard rental business.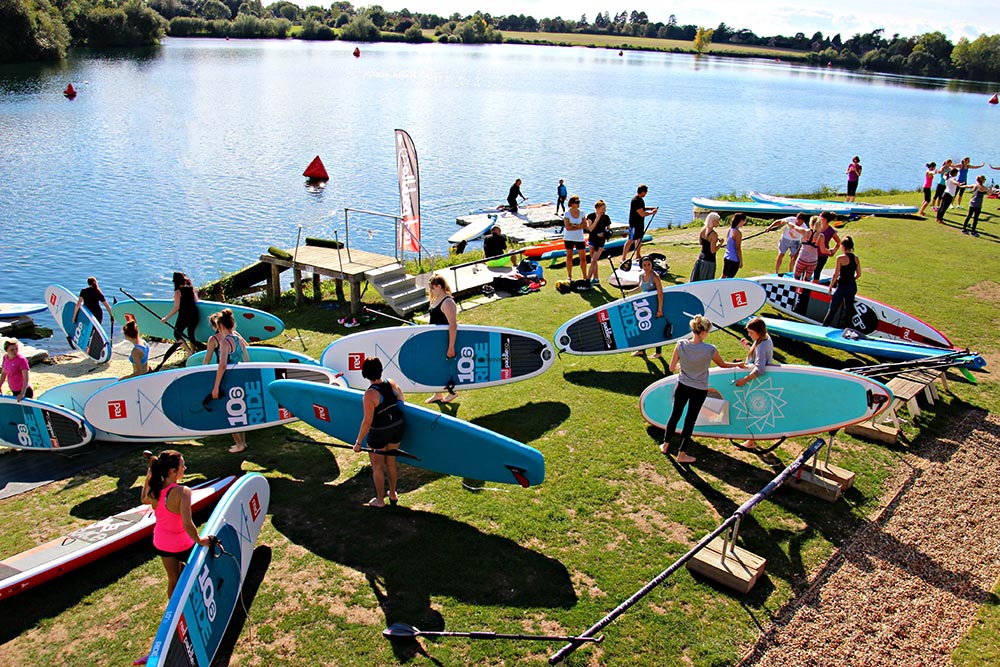 Red Paddle Co were early pioneers of the inflatable SUP and have been making boards for over 10 years. In that time, we have established a global reputation as leaders in the field of inflatable paddle boards, with innovations such as MSL construction technology and RSS battens helping to produce an award-winning range of boards. We make all of our boards in our own purpose-built factory where we can monitor every step of the production process and we have worked meticulously to perfect 4 key areas:
Strength
Stiffness
Durability – we have a warranty rate below 0.5%
Inflation speed & pressure
Ease of transport
Finance options

This focus and attention to detail ensure we continue to produce the highest quality inflatable boards with unrivalled durability, which are ideal for SUP rental businesses and SUP schools of all sizes.
WHY RED PADDLE CO BOARDS ARE PERFECT FOR RENTAL BUSINESSES
Choosing to stock Red Paddle Co's range of inflatable boards as opposed to the traditional hard boards makes complete sense for paddleboard rental businesses and schools for a number of reasons:
Longevity
Our boards are built to last and provide you with multiple seasons of service. Which means you're getting a great return on investment (ROI). What's more, they also have a good resale value, meaning you'll recoup most of your purchasing cost.
Durability
Red Paddle inflatable boards are more durable and robust meaning there's no need for costly repairs which take up staff time and take your boards out of service while being fixed. Instead, all your boards can be out on the water, earning you money!
Storage
Thanks to being inflatable our boards take up significantly less space when deflated. This saves on storage costs, particularly over the winter months. If you prefer and have space, you can leave them inflated for the whole season and only deflate when it suits you.
Transportation
Once packed into the backpack, a board can fit in any size car, be taken on public transport or checked in as luggage on a flight. This broadens the reach of your rental business and means you can run multi-day rentals as people can easily take them on holiday with them.
Weight
Our boards are lighter and more manoeuvrable than hard boards making them easier to use and carry. This makes it far less of a chore for the customer, improves their whole experience make them more likely to want to do it again!
Better for beginners
A large portion of your customer base are likely to be new to the sport and as our boards have soft deck pads and rounder edges they are far more forgiving, making them ideal for first timers.
Our iSUPs essentially give you the best of both worlds – all the convenience and practicality of inflatables combined with performance that is on a par with their hardboard counterparts. And thanks to our meticulous research, development and innovation, they're also a far better choice than any other inflatable board on the market, with unrivalled, strength, stiffness and durability. If you want evidence of just how durable they are, take a look at our Board Versus videos!
WHICH RED PADDLE CO BOARDS ARE BEST FOR YOUR SUP RENTAL BUSINESS?
The Red Paddle Co range of inflatable paddle boards cater for all types of paddlers, from beginners to experts, and for all types of paddling activity.
The most versatile of the Red Paddle Co board ranges is the Ride range and the hands down winner and a must-have for all rental businesses is the Ride 10'6 because it suits 90% of customers, both adults and kids, and is likely to be the only board that most will ever need.
The next size is the Ride 10'8 which is the perfect platform for learning to SUP as well as for yoga and fitness use.
The Ride L (14') and Ride XL (17') are popular for group events such as hen and stag parties and corporate team building and are also suitable for families to use as long as the children are 8 years or older.
Beyond the versatile Ride range it will depend on your location, water conditions and your customer requirements, but there's basically a Red Paddle Co board for all occasions! Choose between touring, surf, windsurf, race, yoga, and even white-water paddling.
TALK TO RED PADDLE CO TODAY ABOUT YOUR RENTAL BUSINESS
At Red Paddle Co our passion is paddle boarding, therefore, we love to talk paddle boards! Our experts are always happy to hear from businesses and discuss your requirements. And don't forget, as well as the boards, we also supply all the paddle board accessories you'll need to make your rental business a success.

Drop us a line today and find out how we can help you:

Email Red Paddle Co UK on reduksupport@redpaddleco.com

Or call 01803 712140